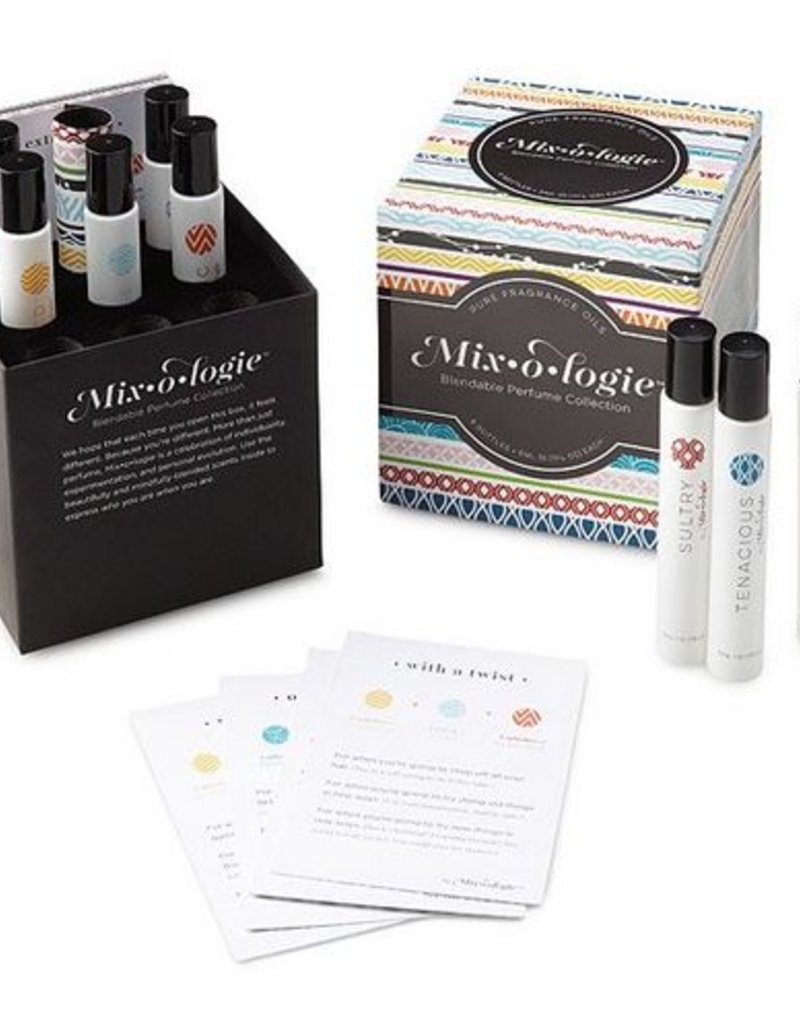 MIXOLOGIE BLENDABLE PERFUME COLLECTION
Portable Perfumery
Designed to be layered on your skin to create a personalized perfume experience, this set is made up of eight expertly crafted rollerball fragrances that can be combined to evoke a specific mood or intention. Each of the alcohol-free, blendable perfumes comes from a distinct fragrance family: musk, oriental, marine, floral, vanilla, citrus, and fruity. Consult the seven prompt cards for examples of how to build your own perfume, or experiment with bespoke layers that capture the essence of the current moment. Whether you feel inspired, serene, electric, tender, free, tenacious, assured, sultry—or everything all at once!—these infinitely mixable aromas let you be your own perfumer. Made in Texas by Sammi Hill.

A scent-loving member of our team tried our Mixologie Blendable Perfume Collection and was very favorably impressed with not only the aromas but how long they lasted. Read her review on our blog.


Set includes eight scents:
TENDER - Fruity
Black raspberries burst with citrus from Sicilian lemon and orange zest. Green tea, moss, silver sage, French lavender, and geranium leaf add vitality and a clean crispness.

ASSURED - Natural
Creamy sandalwood, patchouli, and vetiver create rich, smokey undertones. Fresh and aqueous marine notes keep things light and airy while crushed violet leaves add a feminine touch.

SULTRY - Wild Musk
Beautiful exotic white musk and blonde amber surround fresh watery accords and a modern rose muguet.

SERENE - Light Floral
A gorgeous floral blend of white freesia, jasmine, rose, ylang, and cyclamen combine with sparkling bergamot, Madagascar vanilla, musk, and sheer woods.

FREE - Marine
Cool, refreshing, and brisk top notes of salty marine air soar over watery peony blossoms, Caspian rose, and cool sea moss.

TENACIOUS - Crisp Vanilla
Madagascar vanilla bean harmonizes with smokey musk, amber, woody sandalwood and white oak. Aged bourbon, tobacco flower, and tonka conclude the blend with just the right amount of mystery.

INSPIRED - Rose Floral
Fresh and bright top notes of bergamot, petitgrain, and geranium leaf blend into rosa damascene with highlights of cyclamen, white lilies, and neroli blossoms.

ELECTRIC - Citrus Twist
A playful citrus medley of pink grapefruit, zesty lemon, and sweet mandarin.